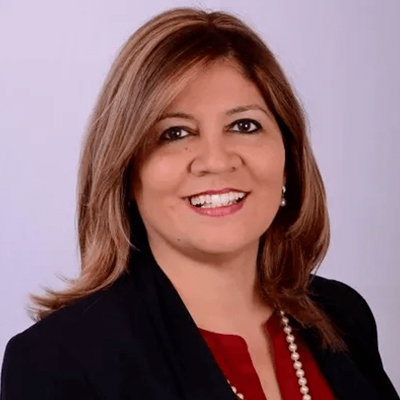 Daisy Sanabria – Deputy Treasurer / Protesorera
English: 
Certified Realtor for South Florida with expertise in residential and investment properties. Co-founder and Director of ALL CARS INC., a corporation that exports motor vehicles and machinery with offices in Miami, Bogota and Asuncion. Founder and Board of Director for the PARAGUAYAN WOMEN NETWORK, Inc., focused on promoting legislative reform in the areas of public policies and immigration between Paraguay and the United States of America. Previously served as Commercial and Cultural Attaché in the Embassy of Paraguay to Venezuela and also served in the General Coordination of Protocol for Presidential Summits of the MERCOSUR. Certified Public Notary in Florida. Obtained a law degree from the Universidad Nacional de Asuncion (UNA) in Paraguay. 
———————————————————————————————————————————————–
Español: 
Asesora certificada en Bienes Raíces en el Sur de la Florida con especialidad en propiedades residenciales y de inversión. Co-fundadora y Directora de ALL CARS INC., empresa exportadora de autovehículos y maquinarias con oficinas en Miami, Bogotá y Asunción. Fundadora y miembro del Directorio de PARAGUAYAN WOMEN NETWORK, Inc., abocada a impulsar leyes de políticas públicas y migratorias en Paraguay y Estados Unidos. Anteriormente ejerció como Agregada Comercial y Cultural de la Embajada de Paraguay en Venezuela y trabajó en la Coordinación General de Protocolo para Cumbres Presidenciales del MERCOSUR. Notaria Publica certificada en Florida. Abogada por la UNA, Paraguay. 
E-mail: [email protected]