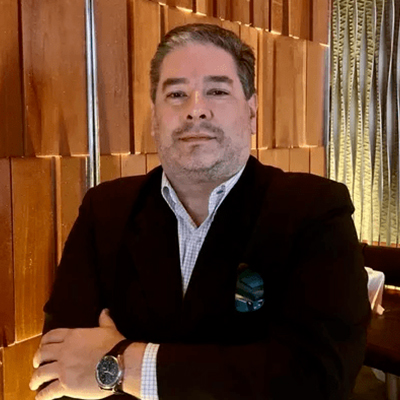 Martin D. Cardozo – President
English: 
Martin is an independent Commodities Trading and Investment Consultant with clients in many countries, especially in the USA and Latin America. He is an expert in complex international negotiations. Previously, he worked for almost 20 years for two of the largest global agricultural commodities trading and processors in the world. He started his carrier in this industry in 1998 at Louis Dreyfus Commodities in Wilton, Connecticut, where he worked on several positions and commodities, the last one as Vice President responsible of the Sugar and biofuels business for the Western Hemisphere. In 2012 he moved to Miami, FL to start the Sugar trading operations in the Americas for Bunge, where he built a sizable trading business from scratch. He has visited and conducted business with producers, exporters and importers in almost all the countries in the Americas, as as well as with clients in Asia, Europe and Africa. He has been Speaker at major international commodities trading Conferences in several countries.
After graduating from college, he worked in Paraguay as an economic analyst at the Department of Agricultural Economics of the Commerce Directorate of the Ministry of Agriculture and Livestock. Later on, he became the Head of the Economic Integration Department of the same Ministry since its creation in 1993. In that capacity, he was in charge of coordinating all the international agricultural negotiations for Paraguay in MERCOSUR, WTO (GATT), and other international organizations.
He holds a Bachelor degree in Agricultural Economics from The College of Agrarian Sciences of the National University of Asunción – Paraguay, a Graduate Specialization degree in Agricultural Economics from the Centro di Formazione ed Assistenza allo Sviluppo (CeFAS), Viterbo- Italy, and a Master of Science in Food and Resource Economics (FRE) from the University of Florida – USA, where he received the Award for "Outstanding International Student" and was also Secretary of the FRE Graduate Student Organization.
He was also an Assistant Professor in the areas of Agricultural Economics and Agribusiness at UNA-Paraguay and also Teaching Assistant at the University of Florida, USA. He currently teaches "History of Paraguay" and "Geography of Paraguay" at the novel "Art and Culture Center of Paraguay in Miami Dade" under its academic partnership with the Miami Dade College- North Campus. 
He speaks English, Spanish, Portuguese, Italian and Guarani.
———————————————————————————————————————————————–
Español: 
Martin es Consultor independiente en Comercio internacional e Inversiones en Commodities con una cartera de clientes en varios países, especialmente en EE. UU. y Latino América.  Es experto en negociaciones internacionales complejas. Previamente fue alto ejecutivo con experiencia de más de dos décadas en EE. UU. en dos de las empresas de comercio y procesamiento de commodities más grandes del mundo.  Empezó su carrera en esta industria en 1998 en Louis Dreyfus Commodities en Wilton, CT, donde trabajó con diferentes commodities agrícolas y en diversos cargos, el último de ellos como Vice Presidente responsable de los negocios de azúcar y biocombustibles en el Hemisferio Occidental.  En el 2012 se mudó a Miami, FL para comenzar las operaciones de trading de azúcar en las Américas de Bunge, donde construyó un buen volúmen de negocio de trading internacional desde cero.
Ha visitado y hecho negocios con productores, exportadores e importadores en casi todos los países de las Américas, como así también con clientes en Asia, Europa y Africa.  Ha disertado en importantes eventos y conferencias internacionales de comercio mundial de commodities en varios países.
Al graduarse de la Universidad en Paraguay, trabajó como analista económico en el Departamento de Economía Agrícola de la Dirección de Comercialización del Ministerio de Agricultura y Ganadería.  Luego en el mismo Ministerio, como Jefe del Departamento de Integración Económica desde su formación en 1993, estuvo a cargo de coordinar las negociaciones internacionales del sector agrícola de Paraguay en el Mercosur, OMC  y otras organizaciones internacionales.
Se graduó como Ingeniero Agrónomo (Economía Agrícola) por la Universidad Nacional de Asunción (UNA), Paraguay; posgrado de Especialización en Economía Agrícola por el CeFas, Viterbo, Italia; Máster (MS) en Economía Agrícola y de los Recursos por la Universidad de Florida, Gainesville, FL; donde recibió el Premio de "Estudiante Internacional Sobresaliente" y también fue Secretario del Centro de Estudiantes de Post-grado.
Fue Profesor asistente en las áreas de Economía Agrícola y Agronegocios en la UNA-Paraguay y también Asistente de Enseñanza en el Departamento de Economía Agrícola y los Recursos de la Universidad de Florida, EE. UU.  Actualmente es Profesor de "Historia del Paraguay" y "Geografía del Paraguay" en el Centro de Arte y Cultura del PY de Miami, bajo su convenio académico con el Miami Dade College – North Campus.
Martin habla castellano, inglés, portugués, italiano y guaraní.