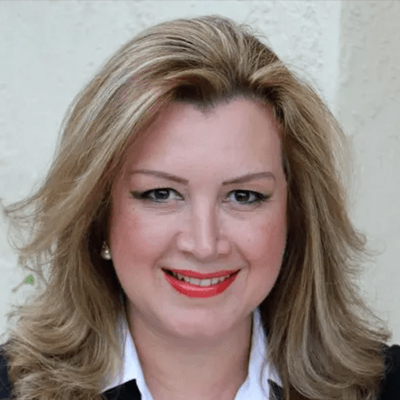 Rocio Mongelos-Cardozo – Affiliate Development
English: 
Rocio is a licensed Real Estate Professional in the State of Florida since 2016, specialized in the South Florida market. Her portfolio includes million-dollar residential Real Estate and she is now entering into Commercial Real Estate as well.
She is founder and Executive Director since 2014 of ACC Consultrade, a "boutique" Consulting Company in Paraguay specializing in strategic management, finance and international commerce.
She graduated with a Bachelor of Business Administration from the College of Economics, Business Administration and Accounting of the National University of Asuncion, Paraguay; a Master in Public Administration from the Catholic University of Asuncion and finished all credit courses of the Master in Latin American Studies with concentration in Economics at the University of Florida, USA, receiving the Award of "Outstanding International Student".  In addition, she worked as a Research Assistant with the Director of the Center for Latin American Studies at the University of Florida in the area of Business Environment in Latin America.
In Paraguay, she worked as an Internal Auditor at the Judicial Branch of Government and previously as an Auditor of Public Bidding at the General Comptroller of the Republic of Paraguay.
———————————————————————————————————————————————–
Español: 
Rocio es Agente profesional de Bienes Raíces en el Estado de Florida, especializada en el mercado del Sur de la Florida. Su portafolio residencial incluye propiedades en Miami de más del millón de dólares y también se está expandiendo al mercado de propiedades comerciales.
Es socia fundadora y Directora Ejecutiva desde el 2014 de ACC Consultrade, una empresa "boutique" de Consultoría Internacional basada en Paraguay con énfasis en administración estratégica, finanzas y comercio internacional. 
Rocio es Licenciada en Administración de Empresas por la Universidad Nacional de Asunción (UNA), Paraguay; Máster en Administración Pública por la Universidad Católica de Asunción (UCA), Paraguay y terminó el curso de Maestría en Estudios Latinoamericanos con concentración en Economía por la Universidad de Florida, Gainesville, EE. UU., donde recibió el Premio de "Estudiante Internacional Sobresaliente" y además trabajó como Asistente de Investigación del Director del Centro de Estudios Latinoamericanos en el área de Ambiente de Negocios en Latinoamérica.
 En Paraguay fue Auditor Interno en el Poder Judicial y previamente auditor en la Dirección de Licitaciones Públicas de la Contraloría General de la República.
Email: [email protected]